Power at the Surface: Drilling Platforms Move Over for Wind Turbines
The Federal Government Driven Gulf Louisiana Offshore Wind Propeller Hub Transforms The View From the Baton Rouge/New Orleans Economy.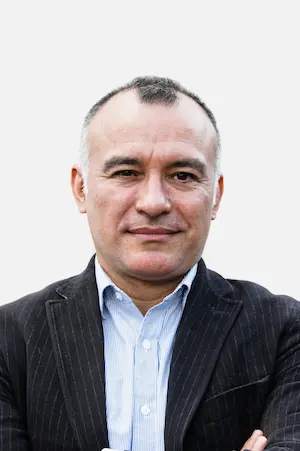 By Gilberto García-Vazquez
Towards Wind Energy and Growing Complexity
The Gulf Louisiana Offshore Wind Initiative is one of 31 tech hubs established by the Biden Administration to drive innovation and growth in emerging industries across different regions. Typically, regions known for fossil fuel production lack economic diversity. This initiative aims to change that by leveraging the region's existing fossil fuel infrastructure and expertise from oil platform development and operations to spur industrial growth and innovation in wind energy. This strategic blend of old and new industries is intended to facilitate a shift towards more sustainable economic practices.
From an analytical perspective, applying the principles of Relatedness and Revealed Comparative Advantage (RCA) to this initiative provides valuable insights. Relatedness ensures seamless integration between existing and new industries while RCA identifies sectors where the region already excels, providing a solid foundation for growth and innovation. Through these initiatives, the goal is to leverage existing strengths into innovation and diversification.
Harnessing the Wind Turbine Value Chain
Baton Rouge is just an hour's drive from New Orleans in a region ripe with opportunities in wind technology development. The United States has grown to dominance in the energy sector at all levels. Baton Rouge/New Orleans in particular is a modest export hub, with its trade in wind technology valued at $4.3 million in 2022. Although the region has a low Relatedness score in wind technology manufacturing, suggesting a potential vulnerability, the strong presence of offshore oil and gas operations provides a unique and somewhat ironic competitive advantage.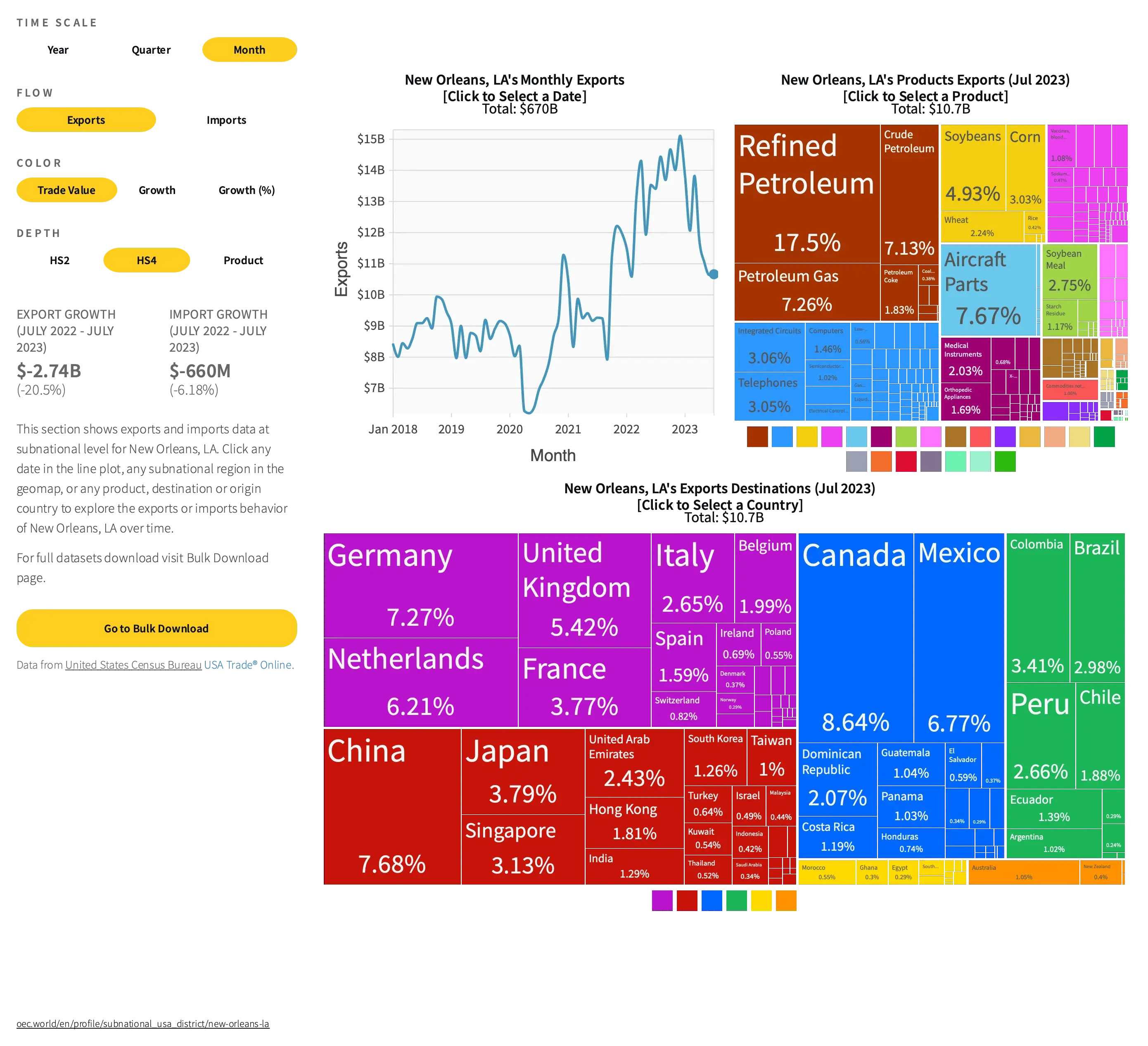 Latest Trends
Regions with a history of managing oil platforms excel in the offshore wind sector. Highly sophisticated offshore construction and technical knowledge in delivering complex energy from sea to shore are a huge asset in achieving a seamless and rapid transition into renewable energy projects. Significant engineering and technical expertise, experience in risk management, and marine operations allows economies of scale to drive innovation. The Biden Administration is betting that significant investment in research and development here is an opportunity to retrain and upgrade the existing workforce for the growing renewable sector.
Rotor blades, Nacelle housings and generators are all high value components that need new manufacturing capacity. These are not Don Quixote's windmills.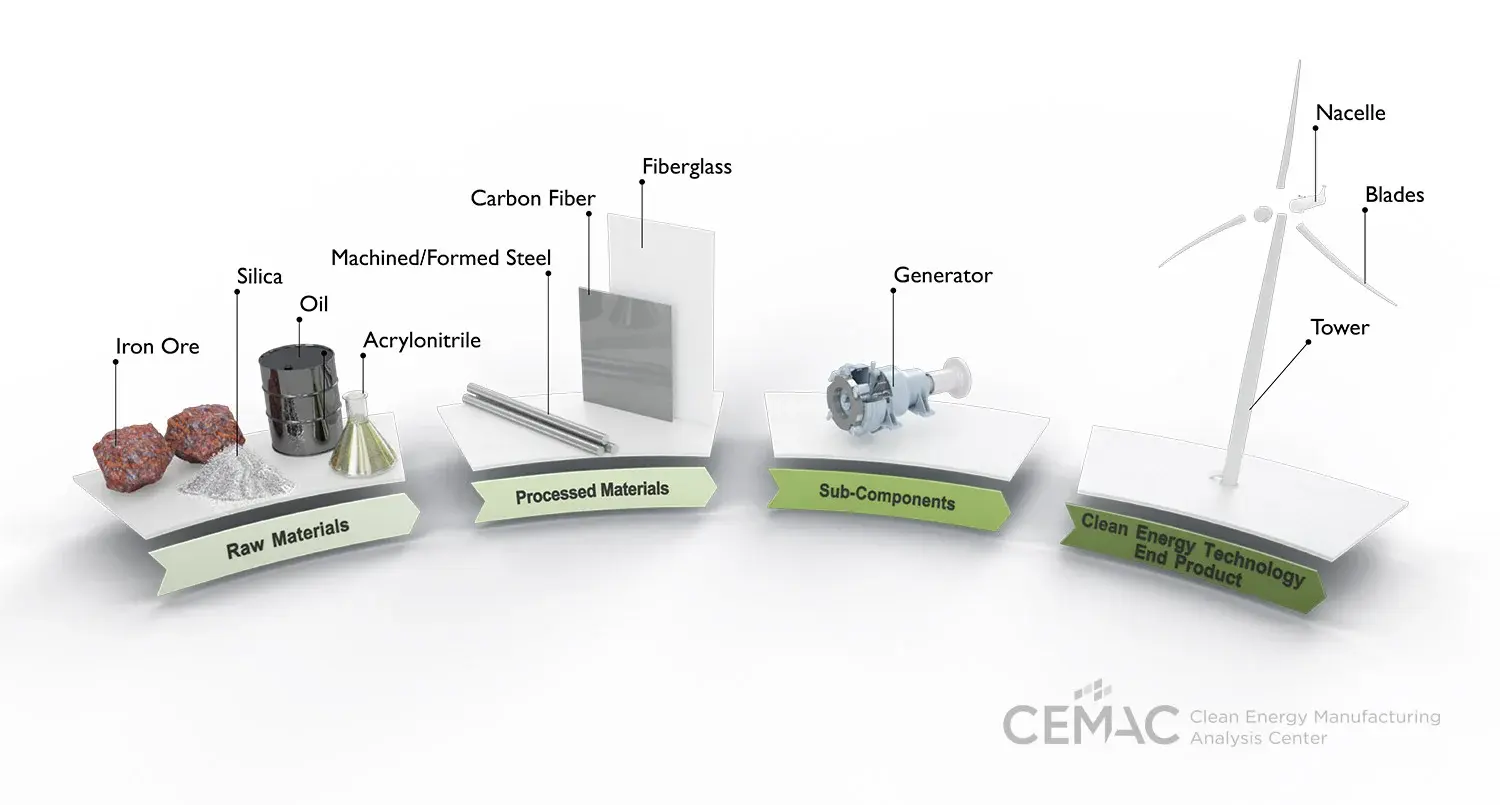 Wind Turbine Value Chain
Tackling Meteorological Challenges
Seasonal wind variations and storm risks in the Gulf present challenges but the energy opportunity is unarguable. In the Gulf an estimated 508 GWs of technical resource potential remains untapped. Lower labor costs and existing energy infrastructure, coupled with the shallow waters off Texas and Louisiana, add to the attractiveness of this region. The Gulf Louisiana Offshore Wind Propeller hub is a driver of renewable energy production, diversification building regional economic complexity.
With the potential to power nearly three million homes, tapping the Gulf's 508 GW technical in offshore wind produces a gale force of economic activity. Seasoned oil and gas professionals joining the burgeoning wind sector signals the Gulf's role in reaching for the goal of generating 30 gigawatts from US offshore wind infrastructure by 2030.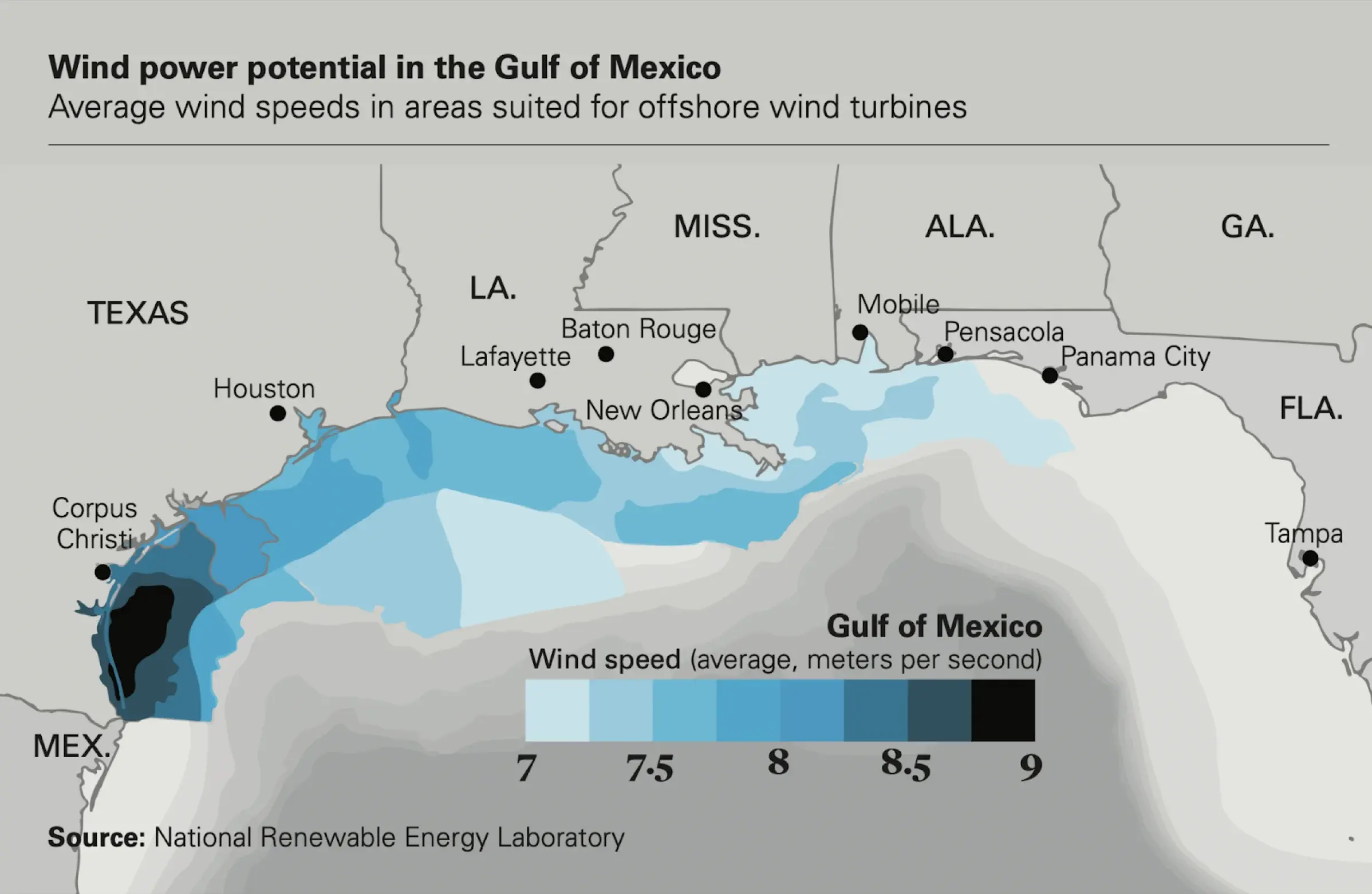 Strategic Collaborations Fueling Progress
Louisiana's 2022 climate action plan targeted 5 gigawatts of offshore wind power by 2035. Strategic collaboration across state, federal, and private sectors, to foster innovation and investment is a feature of the Gulf Louisiana hub. A recent partnership between Gulf Wind Technology (GWT) and Shell New Energies US LLC illustrates how local investment, and community engagement can push Louisiana to the forefront of offshore wind technology.
Gulf Wind Technology (GWT) and Shell New Energies US LLC have made a $10 million investment to create the Shell Gulf Wind Technology Accelerator program which aims to pioneer optimized solutions for the Gulf's distinctive wind conditions and to be the cornerstone of technological education and workforce development in offshore wind energy, with a particular emphasis on rotor technology. A first turbine is scheduled for demonstration in 2024.
Building on Legacy and Expertise
Gulf Louisiana's Offshore Wind Propeller hub is not the first rodeo for this industrial center in wind projects. The first U.S. offshore wind farm at Block Island off Rhode Island's coast, was largely built in the bayou. The 400-ton foundations were crafted in Houma Louisiana, and six companies supplied specialists, from engineers to marine welders for this $290 million project. Louisiana is already a winner taking its Wind Transition expertise on the road. Tapping the Gulf's 508 GW wind potential suggests quite literally that the sky is the limit for this industrial group.
Lots of Wind but No Easy Money
Realizing the energy wealth from a robust offshore wind sector in the Gulf means dealing with unique meteorological conditions, lower average wind speeds compounded by extreme hurricane exposure. The economic ripple effect of meeting these challenges is worth an estimated $109 billion over the next decade. The Gulf region, enriched by its offshore energy legacy and assisted by resources from a Federal strategic vision could significantly raise the economic complexity and resilience of a region ready to take its place as a technological leader in the sustainable energy future.