Cuba's Outlawed Path Towards Economic Prosperity Might Finally Get a Shot
For decades, Cuba has been at the forefront of biotechnology. A new COVID-19 vaccine might present the opportunity for the Island to display its skills to the World.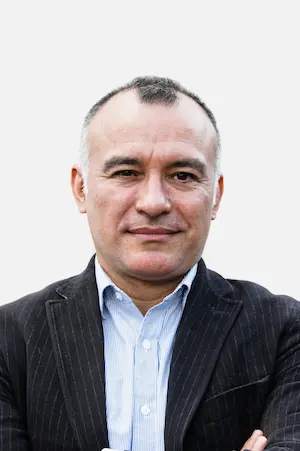 By Gilberto García-Vazquez
Cuba's economy is concentrated in very few products, and many of those products have a high ubiquity meaning they are exported by lots of other countries. In 2019, cigars, sugar, and rum accounted for 47% of Cuba's total exports. Although the diversification opportunities for Cuba are limited, the country has a bright opening in the pharmaceutical industry.
Agricultural products dominate Cuba's exports as of 2019
The wealth of a country is intimately connected to knowledge. The Economic Complexity Index (ECI) makes it possible to measure the concentration and diffusion of knowledge. Trade allows nations to expand their collective ability and to specialize. Unfortunately, due to the U.S. embargo, Cuba's ECI has been declining and is now only higher than Haiti and Nicaragua in North America.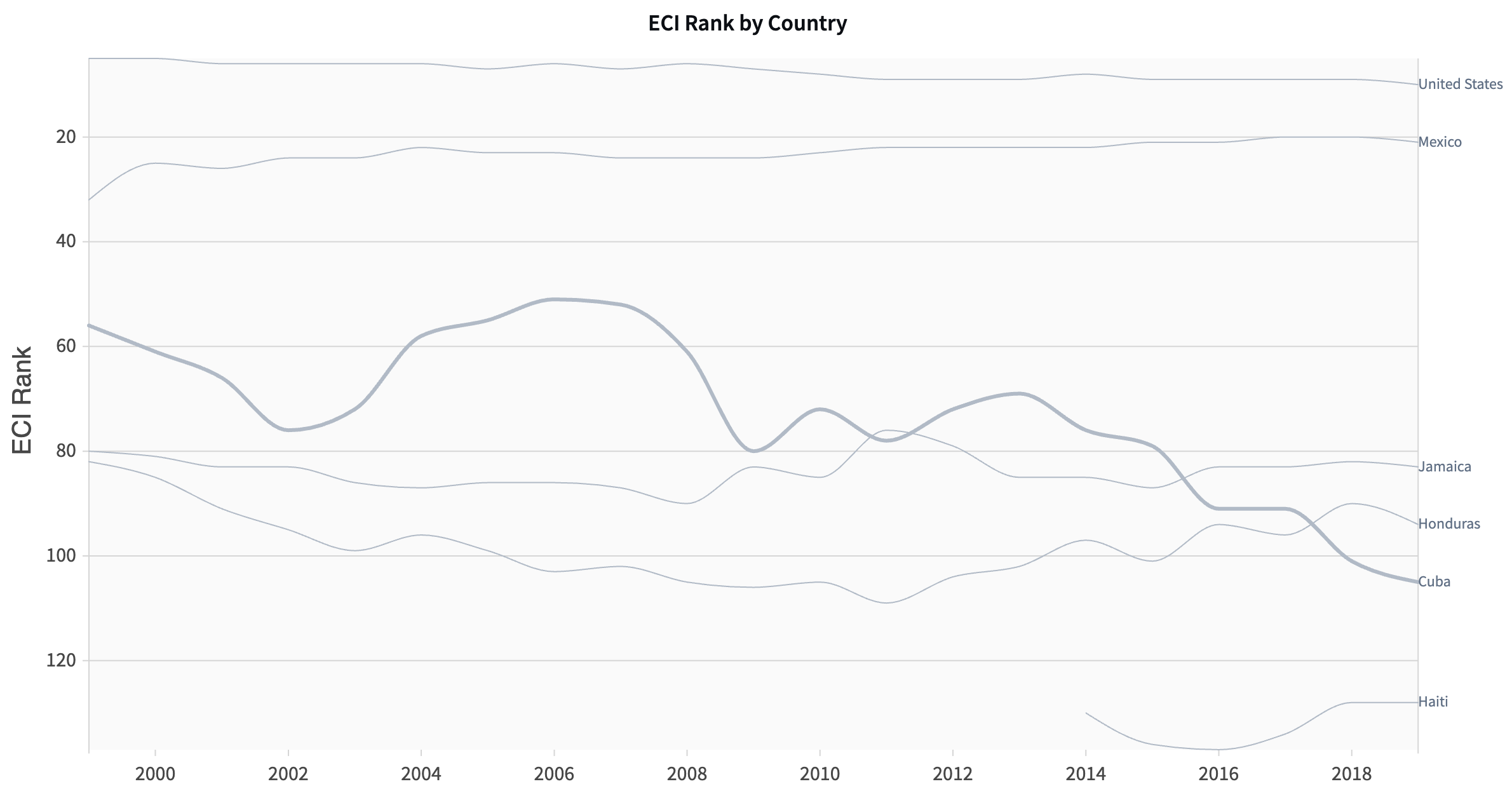 Cuba's ECI compared with neighbors in the region
Cuba's ECI peaked in 2006 courtesy of a more diverse economy, with exports including medicine, vaccines, medical instruments, and nickel. So what happened with these industries?
Cuba has developed a sophisticated pharmaceutical sector(1), initially producing medicines and medical instruments for its population and, more recently, trade with other countries. For example, in 2005, a small lab at the University of Havana won the World Intellectual Property Organization (WIPO) Gold Medal Award for developing the world's first synthetic vaccine against influenza type B. Another example is a vaccine for lung cancer developed by the Center for Molecular Immunology, Cuba's first biopharmaceutical product to earn the FDA permission to conduct clinical trials in the United States.
However, due to the US trade embargo, Cuba's pharmaceutical and medical instruments exports have struggled to find new markets and depend on few trade partners. For example, Cuba's pharmaceutical exports vanished as Venezuela's economy collapsed.
A sharp drop-off of Cuba's pharmaceutical product exports over the past 10 years.
One of Cuba's major exports are minerals like nickel concentrate and cobalt. After the collapse of the Soviet Union, Cuba exported its nickel and cobalt to Canada. Specifically, to a Canadian company, Sherritt International. However, Sherritt International was penalized because part of its production came from mines appropriated during the Cuban Revolution. In 2018, for example, Tesla's battery maker, Panasonic, suspended Sherritt International over concerns that part of its cobalt comes from Cuba (2). At first, China substituted part of the imports from Canada, but it has been less consistent during the past few years.
Cuba's Nickel Matte product exports over the past 25 years.
The diversification opportunities of Cuba are limited, but there is a unique opportunity in the pharmaceutical industry. Even after the Embargo (or partly because of it), Cuba has developed a complex pharmaceutical industry that produces medicines and medical equipment. This industry supplies goods and technologies that comply with international quality standards (4), including prophylactic and therapeutic vaccines, innovative biopharmaceutical products for cancer, cardiovascular disease (CVD), neurology, generic drugs, and natural and traditional medicines.
In addition, the country has invested in developing a homegrown scientific and technical expertise focused on pharmaceutical research and development (R&D), with 2438 patents registered outside Cuba and more than 2640 patent registration applications pending worldwide. Despite its harmful effects, the U.S. embargo on Cuba pushed the country to research, develop and produce its pharmaceutical products (5).
Cuba has the knowledge to produce first-class pharmaceutical products. The challenge has been to find and expand to new markets. The Covid-19 pandemia and the demand for affordable and effective vaccines might be the opening the country needs.
The complexity of its pharma & biotech industries has allowed Cuba to become part of the select group of countries (6) that make vaccines with more than 90% efficacy: Novavax in Germany, Sputnik V in Russia, and Pfizer-BioNTech, and Moderna in the United States. Therefore, Cuba's Covid-19 vaccine Soberana 2 provides Cuba an opportunity to reveal its talents to the World.
The phrase "punching above its weight" characterizes Cuba's performance in world affairs. This trajectory has driven Cuba into a leadership role in diverse south-south cooperation areas, especially public health. With Soberana 2, Cuba's outlawed path towards economic prosperity might finally get a shot.